Donald Trump 45th President Signed 2016 RNC Media Badge Autographed BAS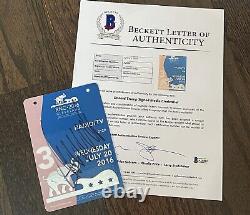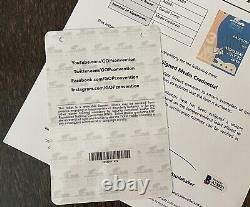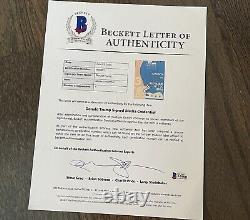 Authentic 2016 Republican National Convention Media Pass from Cleveland, Signed by President Trump - Beckett Authenticated. Step into the realm of political history with an extraordinary find: an original 2016 Republican National Convention Media Pass from the event held in Cleveland, personally signed by the 45th President of the United States, Donald J.
This remarkable item not only links you to a pivotal moment in American politics but also carries the authentication of Beckett, ensuring its undeniable legitimacy and significance. President Trump, a prominent figure in modern politics, made waves during his time in office. His signature on this media pass represents a tangible connection to his presidential campaign and the historical 2016 Republican National Convention in Cleveland. A Piece of Convention History.
This media pass holds a unique place in political memorabilia as it captures not only the event itself but also the involvement of President Trump in the Cleveland convention. By proudly displaying this pass, you showcase your connection to a crucial juncture in American democracy. Rest assured, this exceptional collectible comes with impeccable authenticity guaranteed by Beckett Authentication. Beckett's renowned reputation in authentication ensures that President Trump's signature on this media pass is genuine, offering you complete peace of mind.
For avid political enthusiasts, discerning collectors, or those with an eye for historical significance, this signed media pass represents an investment that will appreciate over time. Display it with pride in your personal collection, home office, or political memorabilia display, allowing the essence of this moment in political history to inspire and captivate. Opportunities to own a tangible piece of political history like this are truly limited. Secure your claim to this authentic, signed media pass from the 2016 Republican National Convention in Cleveland, bearing the signature of President Donald J.
Trump - a central figure in modern American politics.