Donald Trump 10 Rules For Success Wall Art, Leadership Sign Motivational Decor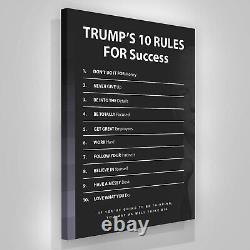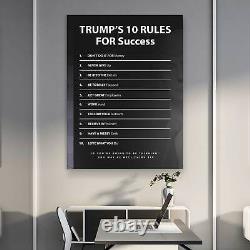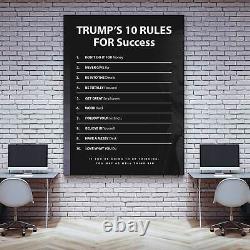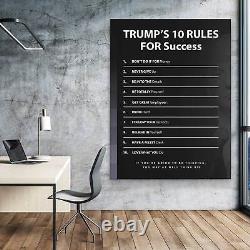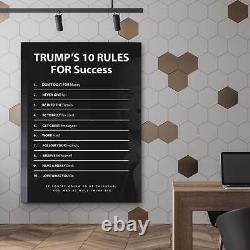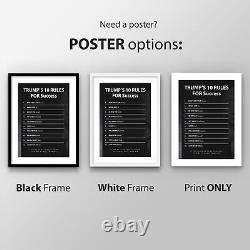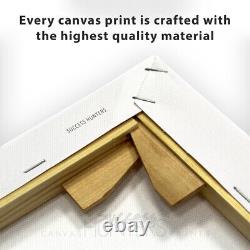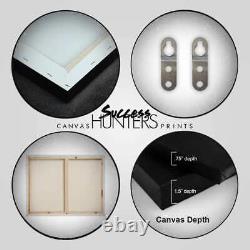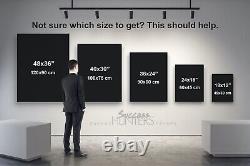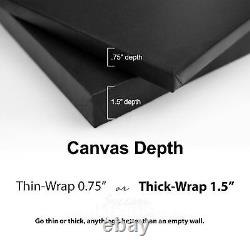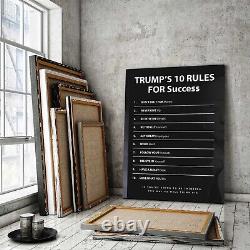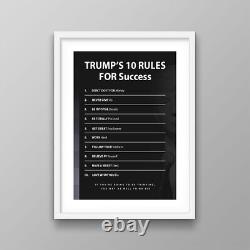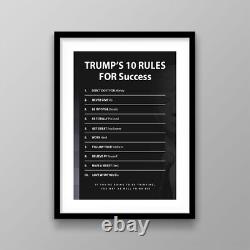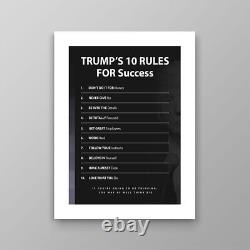 Donald Trump 10 Rules For Success Wall Art Canvas Print or Framed poster captivating masterpiece that embodies leadership lessons and motivational decor. This inspiring sign serves as a constant reminder of the President's mindset and his commitment to making America great again.
Crafted with precision, this high-quality canvas print showcases a powerful quote from Donald Trump himself, beautifully arranged in typography that demands attention. Donald Trump 10 Rules For Success Canvas Print Or Framed Poster. IF YOU'RE GOING TO BE THINKING, YOU MAY AS WELL THINK BIG.
The "Donald Trump 10 Rules For Success" Wall Art is more than just a decorative piece; it's a symbol of entrepreneurial wisdom and success principles. Each rule encapsulates valuable insights from Trump's remarkable journey, offering guidance for those striving to achieve their goals. Hang this poster prominently in your home, office, or workspace to cultivate an entrepreneurial mindset and drive towards success. With its striking design and powerful message, this wall art makes an ideal gift for business-minded individuals, Trump supporters, or anyone seeking motivation and inspiration. Embrace the legacy of Donald Trump and surround yourself with his leadership principles through this remarkable piece of art.
Add a touch of greatness to your surroundings with the "Donald Trump 10 Rules For Success" Wall Art and let it serve as a constant source of motivation on your path to success. Vibrant, fresh colors that will always lift your mood. Success-oriented, motivational, inspirational wall hangings for your office decor. A perfect mindset to overcome any obstacles.
Hanging hardware is pre-installed; READY TO HANGOUT. Hand-laminated, UV-protected, waterproof cotton canvas. Wooden warp-resistant frames are handcrafted by skilled artisans. Specially coated with poly-cot canvas for the highest durability and best color vibrancy. 6 sizes available --> please check drop-down options.
Transform Your Workspace into a Hub for Success. When it comes to motivational imagery for your office, you need artwork that delivers a daily dose of inspiration - not cheap, poorly printed quote decor that's depressingly low-quality and distorted.
At SuccessHuntersPrints, we handcraft our Motivational Wall Art Canvas Prints out of highly durable, an archival-grade cotton canvas that's both UV-protected and waterproof for additional protection. Designed in-house, our poly-cot motivational canvas art features an exclusive coating that ensures only the best color vibrancy, with quality that remains true to the original image. We've heard from hundreds of customers about how vibrant our motivation wall art looks in person. Order yours today for unbeatable quality & stunning visual beauty! Hang it right out of the box!
Unlike competing quote wall art, our motivational art arrives on your doorstep ready to hang, with hardware pre-installed and your inspirational office decor pre-framed in an anti- warp, durable wooden frame. Whether your workspace is tight-quarters or a full-fledged office, we offer our quotes wall art in a range of sizes to enhance your space perfectly.
At SuccessHuntersPrints, we're passionate about adding that extra burst of fire to your dreams - every day. We live and breathe the entrepreneurial journey, offering our customers a virtual art gallery filled with hundreds of unique, exclusive home decor designs, from inspirational quotes to pop art.